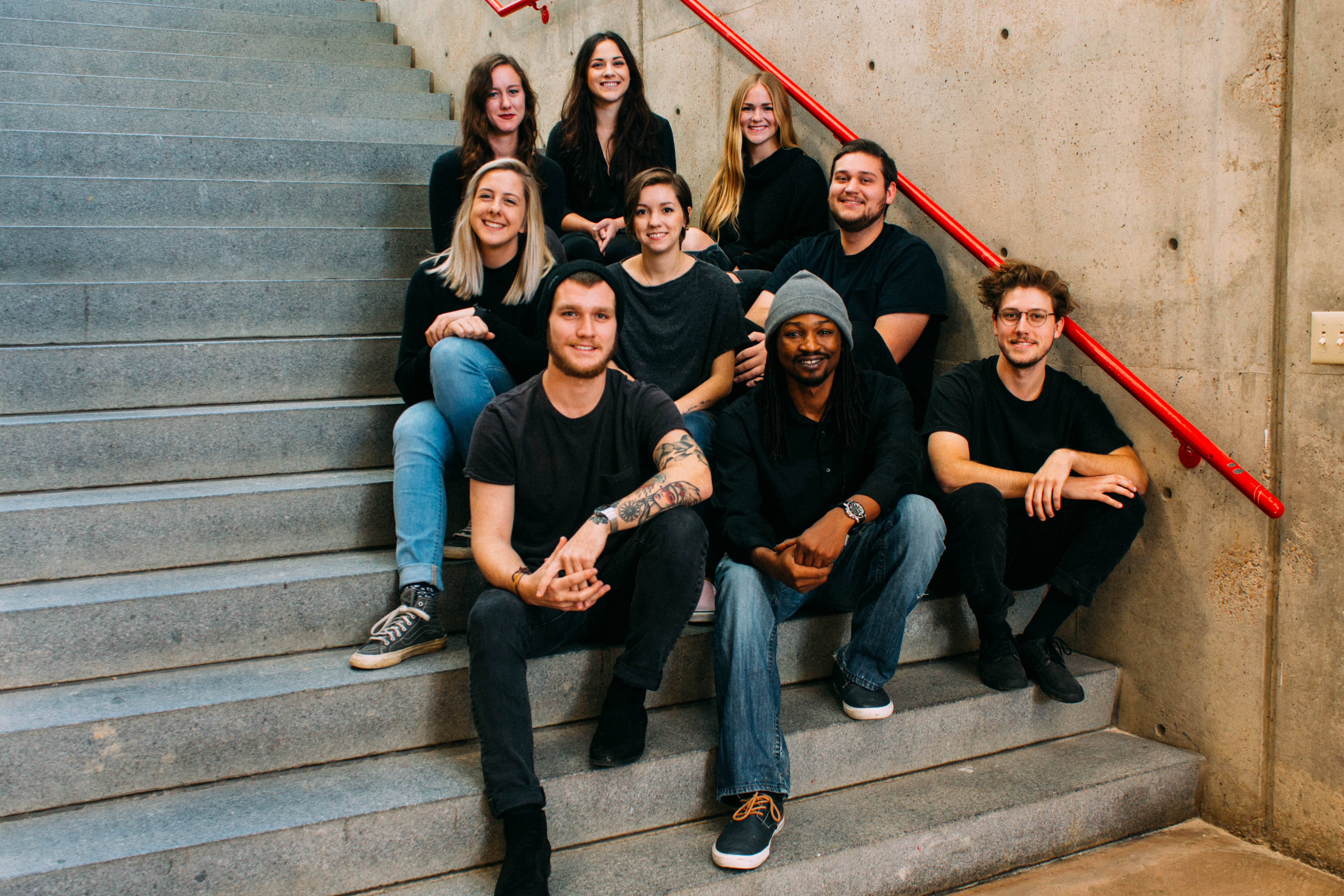 On display Nov. 28-Dec. 5 at Mississippi State's Visual Arts Center Gallery, the "Elements of Design" exhibition features works of nine fine art seniors completing their graphic design studies in the Magnolia State's largest undergraduate studio art program. The student exhibitors include (front row, left to right) Austin Thomas, Vernon McCoy Jr., Aubrey Pohl; (middle row, left to right) Heather Hardman, Alleigh Moffett, Matthew Rogers; (top row, left to right) Morgan Donour, Paige Knapp and Marianna Myrick. (Submitted photo)
By Sasha Steinberg | Mississippi State University
Works of nine fine art seniors specializing in graphic design at Mississippi State will be on display Nov. 28-Dec. 5 at the Visual Arts Center Gallery.
Free to all, the "Elements of Design" exhibition in the gallery at 808 University Drive in Starkville celebrates the conclusion of the students' studies in the Magnolia State's largest undergraduate studio art program.
"These nine brand new design elements are bursting with creative energy and ready to go out into the world and change the entire foundation of design," said Suzanne Powney, MSU assistant professor of graphic design. 
Portfolio works in "Elements of Design" range from illustrative poster designs and eye-catching advertisements to compelling web design layouts and packaging. In addition to the physical displays, individual portfolio books and self-promotional pieces will be available for viewing on opening night. For a preview, visit www.elementsofdesignmsstate.com and follow on Instagram @elementsofdesignmsstate.
A 6-7:30 p.m. opening reception in the students' honor will take place Tuesday [Nov. 28] at the VAC gallery. Complimentary refreshments will be provided by Two Brothers Smoked Meats in Starkville.
Gallery hours are 1-5 p.m., Monday-Friday, and 1-4 p.m., Saturday. 
The "Elements of Design" exhibitors include (by hometown):
Bay Saint Louis—Aubrey J. Pohl.
Birmingham, Alabama—Heather C. Hardman.
Fannin—Vernon E. McCoy Jr., who also is concentrating in fine arts.
Flowood—Marianna G. Myrick.
Fulton—Alleigh T. Moffett; and Austin L. Thomas.
Tupelo—Paige F. Knapp; and Matthew B. Rogers.
West Point—Morgan R. Donour.
For more information, contact Lori Neuenfeldt, the MSU Department of Art's gallery director, at 662-325-2970 or LNeuenfeldt@caad.msstate.edu.
Learn more about MSU's College of Architecture, Art and Design and its Department of Art on Facebook, Twitter and Instagram @CAADatMSU.
MSU is Mississippi's leading university, available online at www.msstate.edu.