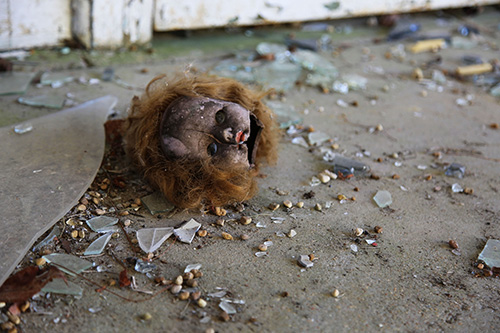 "Doll Head" by Jenna Todd is part of her series that captures details left behind in abandoned structures. (Submitted/by Jenna Todd)
By Sasha Steinberg | Mississippi State University
Diverse works by graduating majors of Mississippi State's Department of Art are on display Nov. 16-Dec. 1 in the university's Cullis Wade Depot Art Gallery.
Free to all, the "Contact F17: BFA Photography Thesis Exhibition" celebrates the final year of studies for five students enrolled in the Magnolia State's largest undergraduate studio art program. They include Kamau J. Bostic of Richmond, Virginia; Jenni L. Kilburn of Duck Hill; Chauncey D. Mangum of Florence; Jenna A. Todd of Quincy, Illinois; and Whitney A. White of Oxford.
Gallery hours are 9 a.m.-5 p.m., Monday-Friday, as well as by appointment.
A public reception takes place 5-6 p.m. Thursday [Nov. 16] in the Cullis Wade Depot Art Gallery on the second floor of the university's Welcome Center at 75 B.S. Hood Drive. Refreshments will be provided.
"Contact F17" reflects the students' successful conclusion of departmental research, writing and presentation requirements, as well as four years of foundational coursework, survey, art history, and academic and emphasis classes.
During their time at MSU, the students have benefited from the expertise and support of Professor Marita Gootee and Assistant Professor Dominic Lippillo. Both teach in the department's photography emphasis area, with Gootee as its longtime coordinator.
Bostic's body of work "My Generation" focuses on the inspiration and identity of individuals with tattoos and explores millennial ideals and attitudes regarding body art. Communicating through the visual language of photography was Bostic's primary goal.
For her photographic series "Chemical Balance," Kilburn created representational and metaphorical depictions of anxiety disorders, the most common mental illness in the U.S., affecting 40 million adults age 18 and older. Each image is designed to show how time seems to stop and last forever for those dealing with such disorders, while appearing only as a passing moment to the viewer.   
Mangum's series of images "Reminders" focuses on the African American community where he grew up. Visiting with relatives and others while working on this project inspired him to overcome a sense of fear to return home and gave him a better understanding of how his past has shaped his future.
Todd captured the hidden details left behind in abandoned homes, schools, hospitals, hotels and churches. Through her collection of photographs "Forsaken with Time," Todd seeks to convey each location's unique story while giving readers a fascinating glimpse into the past.
Titled "Fragmented Abstraction," White's photographic series shows the unknown beauty of friends and family members with whom she has grown close. Individual photographs are organized in a grid to convey the connection that exists between family and friends, as well as help the viewer focus on the abstracted form and beauty of the human body.
In addition to the art department, the "Contact F17" exhibition is made possible with support from the Center for Student Activities. For more information, contact Lori Neuenfeldt, the MSU art department's gallery director, at 662-325-2970 or LNeuenfeldt@caad.msstate.edu.
Learn more about MSU's College of Architecture, Art and Design and its Department of Art at www.caad.msstate.edu, as well as Facebook, Twitter and Instagram @CAADatMSU.
MSU is Mississippi's leading university, available online at www.msstate.edu.