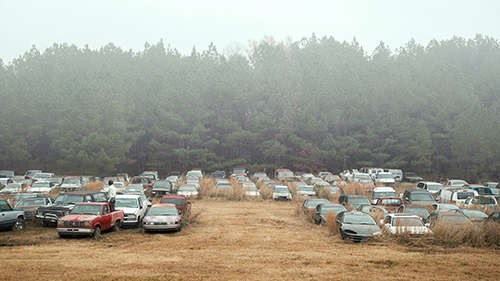 "Car Lot" is among 10 images by MSU art faculty member Dominic Lippillo selected for judging in Photolucida's 2017 Critical Mass portfolio competition. (Photo submitted/courtesy of Dominic Lippillo)
Photographic images by Dominic Lippillo of Mississippi State have been honored among top finalists in Photolucida's 2017 Critical Mass portfolio competition.
A nonprofit organization based in Portland, Oregon, Photolucida works to "expand, inspire, educate and connect" photography communities around the world. The CM competition involves submissions of 10-image portfolios.
Lippillo, an associate professor in the university's art department, is among 200 whose entries were selected for final review by an international panel of professionals representing a range of photographic interests.
Lippillo's portfolio entry comes from a series titled "Stories We Tell Ourselves," which may be viewed at https://dominic-lippillo.pixpa.com/solowork/stories-we-tell-ourselves1.  
A department member since 2010, he also was honored last year with a Mississippi Arts Commission Fellowship Grant.
"This latest recognition of Dom's work not only supports the outstanding research reputation of the university, but also helps us continue to push our students to greater excellence," said Angi E. Bourgeois, department head.
MSU is home to the Magnolia State's largest undergraduate studio art program, and the department is makings plans for a master of fine arts degree in photography, Bourgeois said. Lippillo's achievements "help demonstrate further the strength of our photography concentration," she added.
Lippillo is a 2005 fine arts/photography graduate of Youngstown (Ohio) State University, with a master's degree in the major completed at Ohio University. For more biographical information, see www.caad.msstate.edu/art/artdirectory.php.
His photographic and video creations explore aspects of memory, the domestic and space-versus-place, with works now in permanent collections at the Museum of Fine Arts in Houston, Texas, Museum of Photographic Arts in San Diego, California, and the universities of Alabama and North Dakota.
MSU's art department is part of College of Architecture, Art and Design, online at www.caad.msstate.edu.
See the article at msstate.edu.