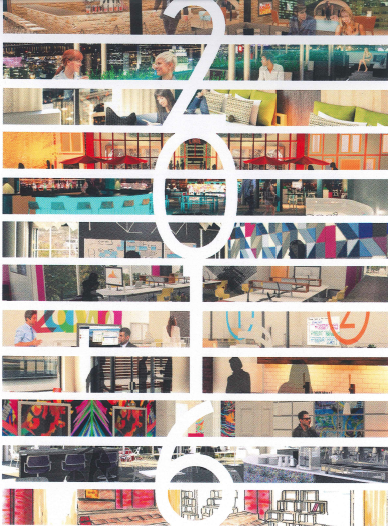 By Sasha Steinberg | Mississippi State University
Interior design creations by twelve graduating seniors at Mississippi State are on display Friday-Saturday [April 15-16] at the university's Cullis Wade Depot Art Gallery.
Free to all, the exhibit showcases the practical knowledge and range of skills that the rising professional designers have acquired throughout their participation in the interior design program.
In addition to general education coursework, the students have gained studio experience in a variety of interior design areas, including design theory, lighting design and interior construction and furniture design, among others.
"We are proud of how far these students have come, and we are excited to say that all of them have secured summer internships with firms as far east as Dallas, Texas, and far north as Raleigh, North Carolina," said Beth Miller, professor and director of the university's interior design program.
The senior interior design exhibitors include (by hometown):
BILOXI—Vanessa L. Holden.
CARUTHERSVILLE, Missouri—Alexandra S. Carter.
CORINTH—Blake Marlar.
FRANKLIN, Tennessee—Anna L. Strohm.
GREENWOOD—Terry E. "Liz" Grantham.
JACKSON—Kayla M. Thompson.
NASSAU, Bahamas—Daniella R. Bower.
RIDGELAND—Victoria M. Owchar.
SENATOBIA—Kalyn S. Johnson.
SOUTHHAVEN—Carley M. Jones.
STARKVILLE—Cheyenne M. Underwood.
YAZOO CITY—Jennifer L. Potter.
Special exhibit hours are 4-6 p.m. Friday [April 15] and 9 a.m.-noon Saturday [April 16] in the gallery located on the second floor of the MSU Welcome Center.
Regular gallery hours are 9 a.m.-5 p.m., Monday-Friday, as well as by appointment.
Accredited by The Council for Interior Design Accreditation and National Association of Schools of Art and Design, MSU's interior design program is the largest of its kind in the state of Mississippi. Providing students with a broad background in interior elements, materials, sources and practical experience in the business of interior design is its primary mission.
For more information about the interior design program, contact Miller at 662-325-7689 orBMiller@caad.msstate.edu.