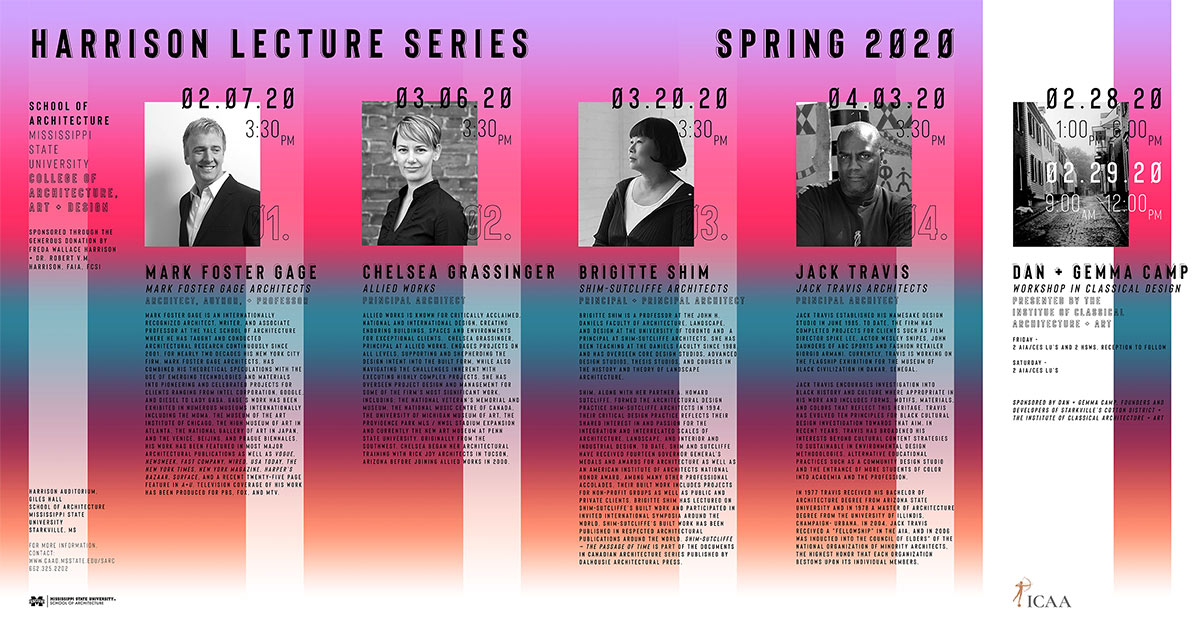 All lectures are held in the Robert and Freda Harrison Auditorium in Giles Hall, Mississippi State University Starkville campus unless otherwise noted.
---
February 7, 2020 | 3:30 p.m.
Mark Foster Gage
Author, Architect, Professor
Mark Foster Gage Architects
Mark Foster Gage is an internationally recognized architect, writer, and associate professor at the Yale School of Architecture where he has taught and conducted architectural research continuously since 2001. For nearly two decades, his New York City firm, Mark Foster Gage Architects, has combined his theoretical speculations with the use of emerging technologies and materials into pioneering and celebrated projects for clients – ranging from Intel Corporation, Google and Diesel to Lady Gaga. Gage's work has been exhibited in numerous museums internationally, including the MOMA; the Museum of the Art Institute of Chicago; the High Museum of Art in Atlanta; the National Gallery of Art in Japan; and the Venice, Beijing, and Prague Biennials. His work has been featured in most major architectural publications as well as in Vogue, Newsweek, Fast Company, Wired, USA Today, The New York Times, New York Times Magazine, Harper's Bazaar, Surface, and a recent twenty-five page feature was featured in A+U. Television coverage of his work has been produced for PBS, Fox and MTV.
Watch the video of Mark Foster Gage's lecture.
---
February 28, 2020 | 1-6 p.m.
February 29, 2020 | 9 a.m. – 12 p.m.
Dan and Gemma Camp Workshop in Classical Design
Presented by the Institute of Classical Architecture and Art and the School of Architecture
The ICAA Workshop introduces classical architecture as a living language to encourage appreciation of the enduring forms that shape our built environment.
Credit: 5 AIA HSWs and 8 credits towards the ICAA Certificate in Classical Architecture
---
March 6, 2020 | 3:30 p.m.
Chelsea Grassinger
Principal Architect
Allied Works
Allied Works is known for critically acclaimed, national and international design – creating enduring buildings, spaces and environments for exceptional clients. Chelsea Grassinger, principal at Allied Works, engages in projects on all levels, supporting and shepherding the design intent into the built form while also navigating the challenges inherent with executing highly complex projects. She has overseen project design and management for some of the firm's most significant work, including the National Veteran's Memorial and Museum, the National Music Centre of Canada, the University of Michigan Museum of Art, the Providence Park MLS/NWSL Stadium expansion, and currently, the new art museum at Penn State University. Originally from the Southwest, Chelsea began her architectural training with Rick Joy Architects in Tucson, Arizona, before joining Allied Works in 2000.
Watch the video of Chelsea Grassinger's lecture
---
March 20, 2020 | 3:30 p.m. (Canceled due to COVID-19)
Brigitte Shim
Principal, Principal Architect
Shim-Sutcliffe Architects
Brigette Shim is a professor at the John H. Daniels Faculty of Architecture, Landscape and Design at the University of Toronto and a principal at Shim-Sutcliffe Architects. She has been teaching at the Daniels Faculty since 1988 and has overseen core design studios, advanced design studios, thesis studios, and courses in the history and theory of landscape architecture.
Shim, along with her partner A. Howard Sutcliffe, formed the architectural design practice Shim-Sutcliffe Architects in 1994. Their critical design practice reflects their shared interest in and passion for the integration and interrelated scales of architecture, landscape, and interior and industrial design. To date, Shim and Sutfliffe have received 14 governor or general's medals and awards for architecture as well as an American Institute of Architects national honor award, among many other professional accolades. Their built work includes projects for non-profit groups as well as public and private clients. Shim has lectured on her firm's built work and participated in invited international symposia around the world. Shim-Sutfliffe's built work has been published in respected architectural publications around the world. Shim-Sutcliffe – The Passage of Time is part of The Documents in Canadian Architecture Series published by Dalhousie Architectural press.
---
April 3, 2020 | 3:30 p.m. (Canceled due to COVID-19)
Jack Travis
Principal Architect
Jack Travis Architects
Jack Travis established his namesake design studio in June 1985. To date, the firm has completed projects for clients such as film director Spike Lee, Actor Wesley Snipes, John Saunders of ABC Sports and fashion retailer Giorgio Armani. Currently, Travis is working on the flagship exhibition for the Museum of Black Civilization in Dakar, Senegal.
Jack Travis encourages investigation into black history and culture where appropriate in his work and includes forms, motifs, materials and colors that reflect this heritage. Travis has evolved Ten Principles for Black Cultural Design Investigation toward that aim. In recent years, Travis has broadened his interests beyond cultural content strategies to sustainable environmental design methodologies, alternative educational practices such as a community design studio, and the entrance of more students of color in academia and the profession.
In 1977, Travis received his Bachelor of Architecture degree from Arizona State University and in 1978 a Master of Architecture degree from the University of Illinois, Champaign-Urbana. In 2004, Jack Travis received a Fellowship in the AIA and was inducted into the Council of Elders of the National Organization of Minority Architects, the highest honor that each organization bestows upon its individual members.
---
The Harrison Lecture Series is sponsored through a generous gift by Freda Wallace Harrison and Dr. Robert V.M. Harrison, FAIA, FCSI.