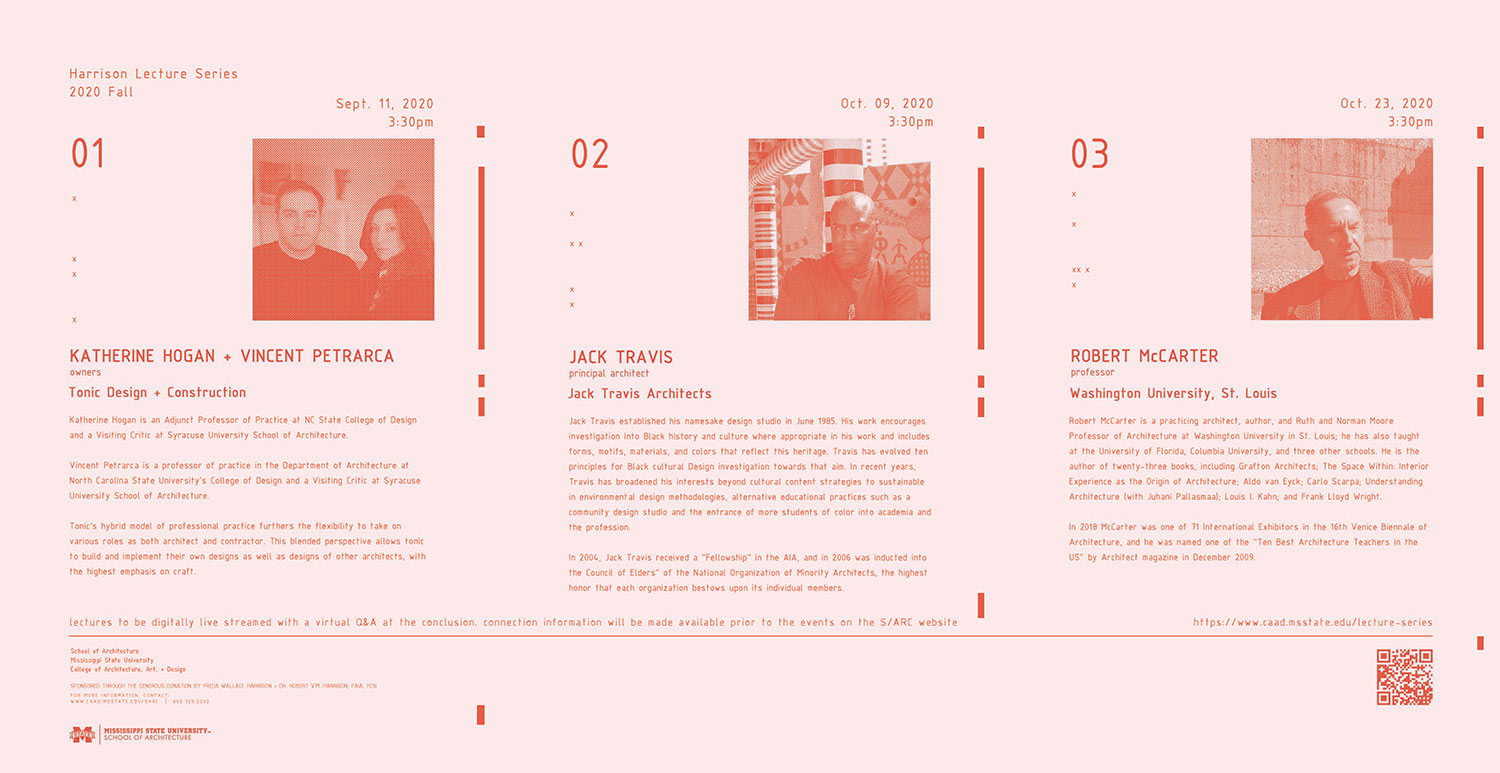 Lectures to be digitally streamed with a virtual Q&A at the conclusion.
The events are free, but you must register. See links below for each event.
---
September 11, 2020 | 3:30 p.m.
Katherine Hogan
Vincent Petrarca
Owners
Tonic Design and Construction
Katherine Hogan is an adjunct professor of practice at NC State College of Design and a visiting critic at Syracuse University School of Architecture. Vincent Petrarca is a professor of practice in the Department of Architecture at North Carolina State University's College of Design and a visiting critic at Syracuse University School of Architecture. Tonic's hybrid model of professional practice furthers the flexibility to take on various roles as both architect and contractor. This blended perspective allows tonic to build and implement their own designs as well as designs of other architects, with the highest emphasis on craft. 
---
October 9, 2020 | 3:30 p.m.
Jack Travis
Principal Architect
Jack Travis Architects
Jack Travis established his namesake design studio in June 1985. His work encourages investigation into black history and culture where appropriate in his work and includes forms, motifs, materials and colors that reflect this heritage. Travis has evolved ten principles for black cultural design investigation towards that aim. In recent years, Travis has broadened his interests beyond cultural content strategies to sustainable in environmental design methodologies, alternative educational practices such as a community design studio and the entrance of more students of color into academia and the profession. In 2004, Jack Travis received a Fellowship in the AIA, and in 2006 was inducted into the Council of Elders of the National Organization of Minority Architects, the highest honor that each organization bestows upon its individual members. 
---
October 23, 2020 | 3:30 p.m.
Robert McCarter
Professor
Washington University, St. Louis
Robert McCarter is a practicing architect, author and Ruth and Norman Moore Professor of Architecture at Washington University in St. Louis; he has also taught at the University of Florida, Columbia University, and three other schools. He is the author of twenty-three books, including Grafton Architects; The Space Within: Interior Experience as the Origin of Architecture; Aldo van Eyck; Carlo Scarpa; Understanding Architecture (with Juhani Pallasmaa); Louis I. Kahn; and Frank Lloyd Wright. In 2018, McCarter was one of 11 international exhibitors in the 16th Venice Biennale of Architecture, and he was named one of the "Ten Best Architecture Teachers in the US" by Architect magazine in December 2009.