April 17, 2023
Location
Cullis Wade Depot Art Gallery, Visual Arts Center Gallery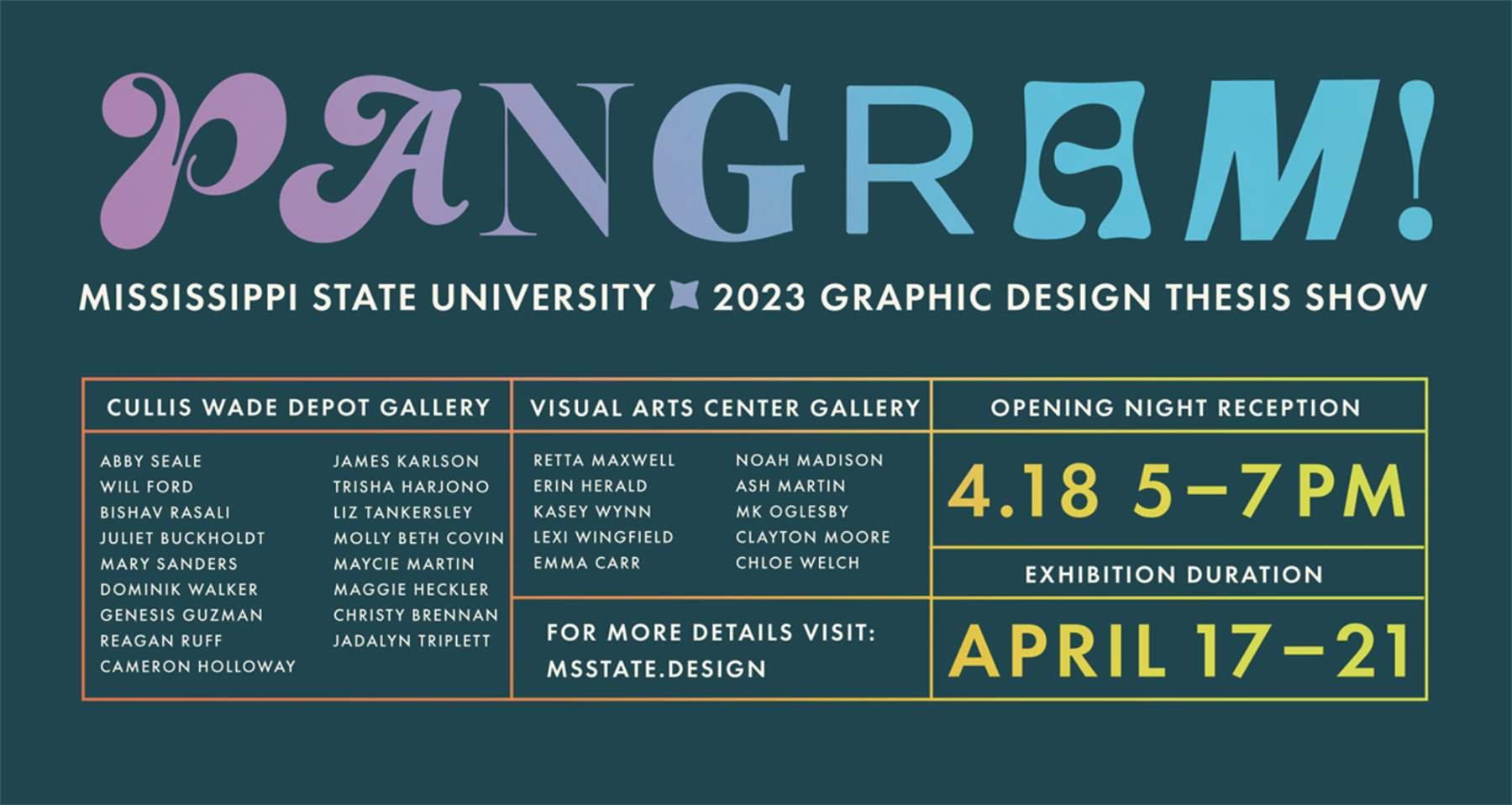 Spring 2023 MSU Graphic Design BFA Senior Exhibition
The Mississippi State University Graphic Design Senior BFA Portfolio Exhibition is open to the public from Monday, April 17th through Friday, April 21st at the Cullis Wade Depot Art Gallery - adjacent to Barnes and Noble - and the CAAD Visual Arts Center Gallery on University Drive.
Exhibited work ranges from web & app design, posters, motion graphics, illustrations, packaging, editorial design, advertising design, branding & identity design, self-promotional materials + more. This year's theme is 'Pangram.' A pangram is a sentence or verse that contains all the letters of the alphabet. Similarly, this show is a group of 27 individuals that have come together to create a unique whole. For the exhibit, each student was randomly assigned a letter from the alphabet and then chose a unique typeface to represent who they are as a person and as a designer. Visit the senior portfolio website, www.msstate.design, and Instagram, @msu_gd, to learn more about the students and their show!
The public is invited to a reception honoring these talented students from 5:00pm–7:00pm on Tuesday, April 18th in the Cullis Wade Depot Art Gallery and continuing to the VAC Gallery. Letters A–Q are located in the Cullis Wade Depot Art Gallery, and letters R–! are located in the VAC Gallery. There will be golf carts available for transportation between locations.
The Cullis Wade Depot Art Gallery is open Monday through Friday, 9:00am–5:00pm, and the Visual Arts Center Gallery is open from Monday through Friday, 1:00pm–6:00pm. For more information, contact the Department of Art at 662-325-2970.