February 3, 2022
Location
Visual Arts Center Gallery
Beginning February 3, 2022, the MSU Department of Art galleries presents the work of artist Laurel Sucsy in the exhibition The Other Way Around.
Artist Statement:
In my paintings, I combine interlocking forms with an attention to color and surface. I am concerned with shifts and stresses, internal tensions and relaxations and the relationship of the parts to the whole. Sometimes a single color will call forth a large expanse found in the landscape. Other times the intimate scale will suggest an object on a table. There is no space and then it suddenly presents itself. There are layers of decisions and layers of discovery. I find the form and the meaning within the making.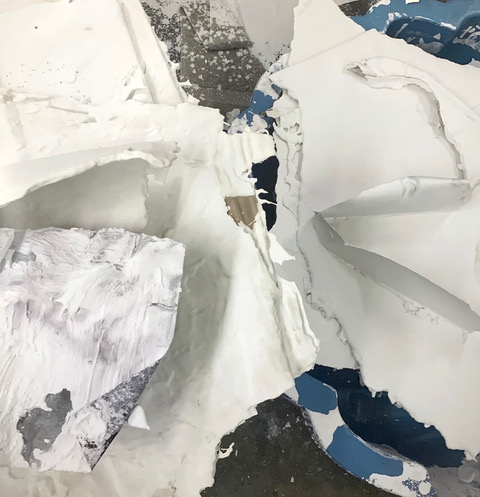 In my photographs, there is a kind of pre-arrangement of the motif and then the image is "found". I am trying to think with the lens of a painter, but I am pushing against the feel of the photographic medium - the click of the camera and the uniform mechanical surface. The removed physical presence and the decisions feeling fixed have the effect of compressing the act of perception, and thus the moment of connection, into an instant.
Despite the obvious contrast, there is a kinship between the photographs and the paintings. Side by side, these two bodies of work throw into view the how and the why of process and ask questions about the connection inherent in the act of seeing.
Artist Bio:
Sucsy holds a BA from Bowdoin College and an MFA from Tyler School of Art. She has been awarded artist residencies at The Ragdale Foundation, The Virginia Center for the Creative Arts, and The Vermont Studio Center and has earned certificates from Temple University Rome and Brandeis University.  Her work has been exhibited nationally, including recent solo exhibitions at John Davis Gallery in Hudson, NY, The Dixon Gallery and Gardens in Memphis, TN and Clough-Hanson Gallery in Memphis, TN. She has curated several exhibitions including, most notably, Between the Eyes, which featured abstract paintings by Marina Adams, Iva Gueorguieva, and several others, and Here is Where We Meet, presenting the work of Susan Lichtman and Dennis Congdon.  Sucsy has taught painting at Rhodes College and Memphis College of Art. She is a recipient of the Arts Accelerator Grant from Arts Memphis.
The Visual Arts Center Gallery is located at 808 University Drive, Starkville, MS. Gallery hours are Monday through Friday, 1:00 p.m. to 6:00 p.m. and Saturday, 1:00 p.m. to 4:00 p.m. Closed university holidays.