October 19, 2021
Location
Cullis Wade Depot Art Gallery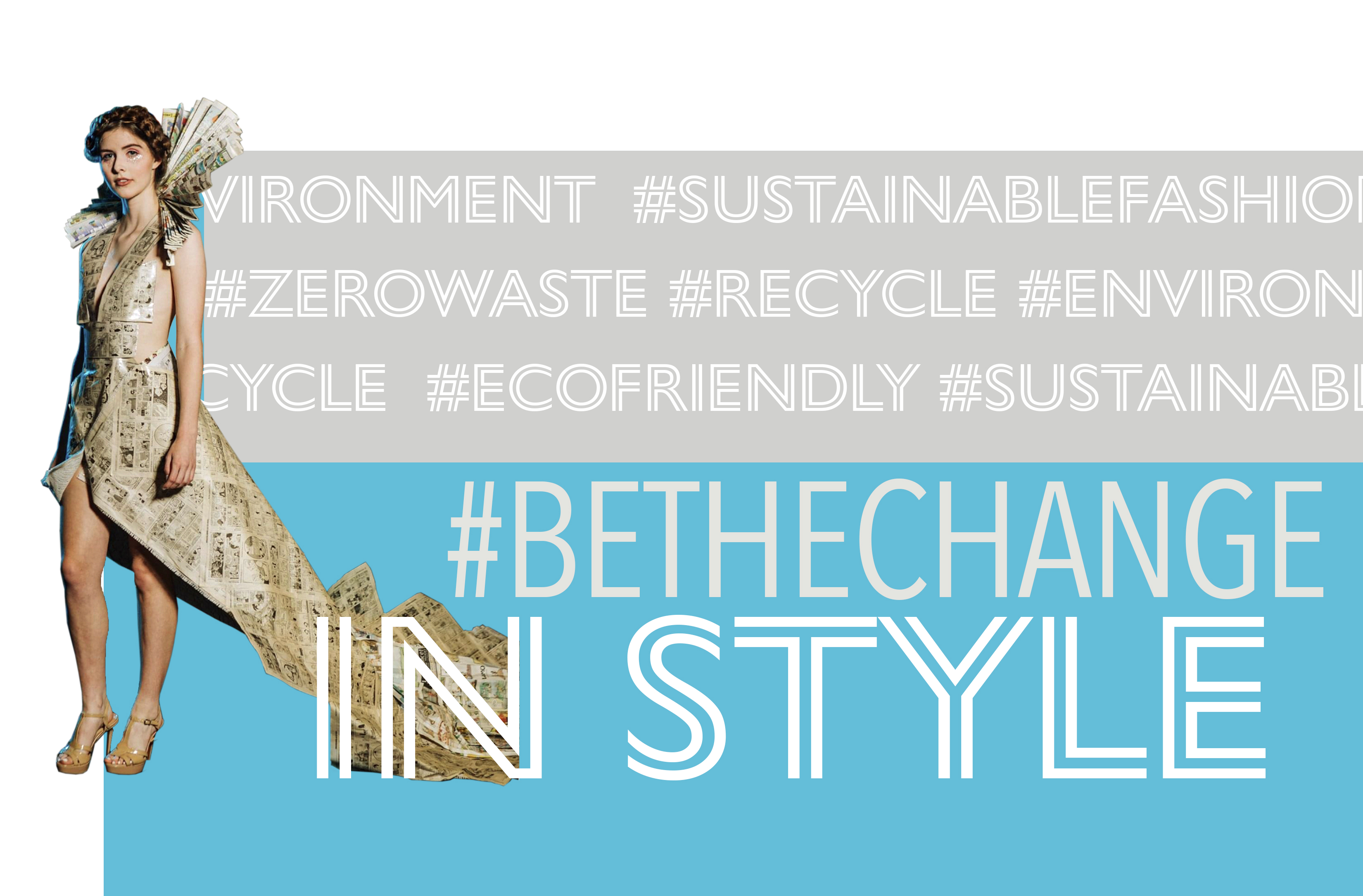 #bethechange IN STYLE is a display of fashions created by graduate and undergraduate students in the Fashion Design and Merchandising program and the Department of Art at Mississippi State University. Among the pieces are two garments from the MSU Historic Costume and Textiles Collection showing the history of upcycling fashion. The eclectic group of items show the range and creativity of sustainable styles.
Featured Designers & Artists:
Natalie Click
Sydney Fava
Jesse Newton
CeCe Turner
Marcus Williams
More luxury designers are changing their business practices to be more eco-friendly, but upcycling is not a new trend. For over 100 years, global events have influenced a love and need for sustainable fashions.
During the Great Depression of the 1930s creative home sewers managing the household budget found ways to reuse common materials for clothing. Name brand flour companies printed fabric bags and flour sacks with colorful flowers and geometric shapes especially to be repurposed for dresses, aprons, shirts, and even Halloween costumes! By the 1940s, World War II rationing froze styles. To save fabric supplies for troops fighting abroad, the motto "Make Do, and Mend" encouraged British and American citizens to reduce new clothing purchases and reuse items in their closets. In the 1960s, thrift store styles were part of hippie culture, youths invented their own unique street style based on comfort and freedom of expression. By the 1970s, concerns about the environment became a movement. The first Earth Day was established and wearing homemade and upcycled fashions showed awareness and support for Mother Earth.
Today, fashion brands are thinking about water usage, waste, lifecycle, and the chemicals used in processing fabrics and creating garments. According to a 2020 article from GoodHousekeeping.com, the top companies making a move towards ethical practices include Levi's, Alternative Apparel, Pact, Everlane, thredUP, H&M Conscious, Eileen Fisher, Polo Ralph Lauren, and Rent the Runway.
Now it's your turn! Think about the impact your clothing choices make and #bethechange in style!
This exhibit is organized by Rachel Woodward, Fashion Design & Merchandising Lecturer with support from Lori Neuenfeldt, Department of Art Instructor/Gallery Director. Special thanks to MSU's Fashion Board, Fashion House, and MSU's Office of Sustainability.
The Cullis Wade Depot Art Gallery is open Monday–Friday, 9am–5pm. Closed for University holidays.