Faculty Spotlight
Silvina López Barrera
Assistant Professor
Studio Coordinator: ARC 1546 Architectural Design I-B (first-year studio, spring)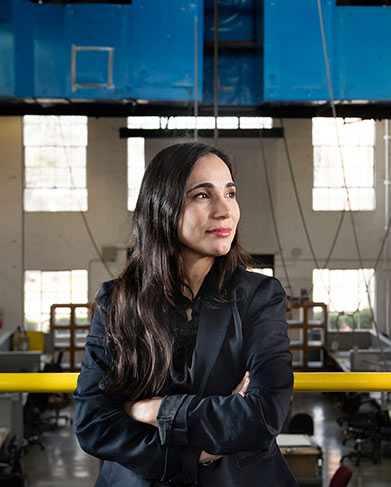 Hometown: La Paloma, Rocha, Uruguay
Family: Husband – Diego Thompson, Ph.D. (Assistant  Professor of Sociology at MSU), son – Felipe (6), and daughter – Sara, (4)
Interesting Fact: López Barrera is a modern dancer and has performed professionally with dance companies in Uruguay, Iowa, and Vermont.
When Silvina López Barrera first learned about architecture, she knew it was the career for her.
Growing up in Uruguay, she said students had to select an education track before high school—either biology, the humanities or science.
"Architecture combined the science of physics, math and art—a beautiful combination," she said. "I always liked these subjects, so I took a leap of faith."
Choosing this scientific track meant that López Barrera would have to travel by public bus one hour each way to high school because the one in her town of La Paloma, a small beach town on the Atlantic coast, didn't offer it.
As a first-generation college graduate, she said she and her younger brother were fortunate to have supportive parents.
"They encouraged us to pursue our studies in the fields we loved," she said.
After studying architecture at the Universidad de la Republica—a large, prestigious public university—practicing in Uruguay, and traveling around the world, López Barrera moved to the U.S. with her husband to earn a master's degree in architecture at Iowa State University, where her teaching career began. She then became a faculty member at Middlebury College in Vermont until joining MSU.
The allure of raising their two children in a small community with a prestigious university led López Barrera and her husband to Starkville in 2018.
"We were attracted to Mississippi State because of its Carnegie research status," said López Barrera. "I was very impressed with the School of Architecture and the work the students and faculty were doing here," she added.
Now an assistant professor, López Barrera enjoys engaging her students in her research, examining how architecture and community design can help alleviate housing inequality and address challenges of climate change in small, rural communities in both the U.S. and in Latin America. She is currently working on a project exploring housing in the Deep South based on her research in Latin America.
"My current research explores informal housing in the Deep South as a result of socio-economic inequalities, barriers to access to affordable housing, and lack of reinforcement of building code and zoning regulations," she said. "I am also collaborating with my colleague and husband Dr. Diego Thompson in sociology studying community resilience and inclusion of Latinx immigrants in rural Mississippi."
"My goal as a professor is to help students to achieve their goals," she added. "Serving as the spring first-year studio coordinator and teaching upper-level studios, I enjoy supporting students as they enter architecture education and as they grow their vision of architecture and become the next generation of architects in a globalized and changing world."